Franklin University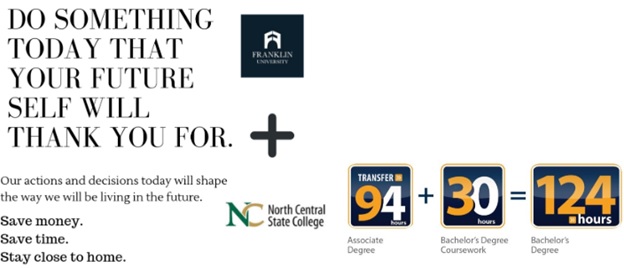 Franklin University partners with North Central State College so that you can have a quicker, more affordable education. Complete three years at North Central State College and finish up with one year of Franklin University classes online!  Browse the Franklin pathways to the left to find which of your NCSC classes can transfer.  Many of these classes are included in the following North Central State College programs.
Franklin prides itself on being 100% focused on the individual, their needs, goals and values, in addition to flexibility and adorable education options. We offer several other benefits over other 4-year institutions, including, but not limited to:
Generous transfer credits
100% online and evening options
Flexible scheduling
No hidden fees
Full access to academic offerings
User-friendly online experience
Academic support services
Professional tutoring and research support
Danielle Cordes, your Franklin University Admissions Advisor, visits all NCSC throughout the month and can meet with you face-to-face, or set up a phone appointment at your convenience. Appointments allow you to learn more about our 3 + 1 programs, how to start the admissions process, and unofficial evaluations conducted at no charge. Click here to schedule an appointment.
Danielle Cordes
Franklin University
Community College Regional Manager
Cell/Text: 330-601-6817
transferinfo@franklin.edu
Franklin University Application
Franklin University Transfer Credit Tool