Academic Planning
How to use MyNC for academic planning and registration
2.) Log in with your username and password. You will only be given a username and password once you've spoken with your Academic Advisor. If you've not yet communicated with them, get in touch with them as soon as you can.

*Please note: Your password expires every 90 days. You must enroll in Password Services before you can change your password online. If your password has already expired, you'll need to contact the IT Helpdesk (419-755-4734) to get your account unlocked and/or password reset.
3.) Click 'My Student Planning'
5.) Click Go to Plan & Schedule

6.) If you know which course you want to take, enter it directly into the 'Search for courses…' box in the top right corner (ENGL-1010, PSYC-1010, etc.), then proceed to step 8

7.) If you want to filter courses by date/time/location/term, click on 'Academics', then on 'Course Catalog', then on 'Advanced Search'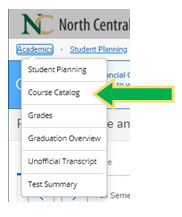 8.) Once you've found a course you'd like to take, click on View Available Sections under the course description

9.) Once you've found a section you'd like to take, click Add Section to Schedule. Repeat steps 6 through 9 for all courses in which you're interested.

10.) Once you're finished planning, you must email Scott George, the CCP Academic Advisor, to have him approve your courses. All courses must be approved before a student may register.
Important Information Regarding Planning & Registration
If you are only planning on taking courses at your high school, you'll work directly with your counselor to get registered
View the CCP Dates & Deadlines to be sure you get into your chosen courses before the registration period ends
If you are unsure of which courses you can/want to take, or would just like to discuss your options, schedule an advising appointment with your advisor
If you need to take the Accuplacer to meet course eligibility, you can schedule that here

, opens in a new window