Engineering Students Research Safety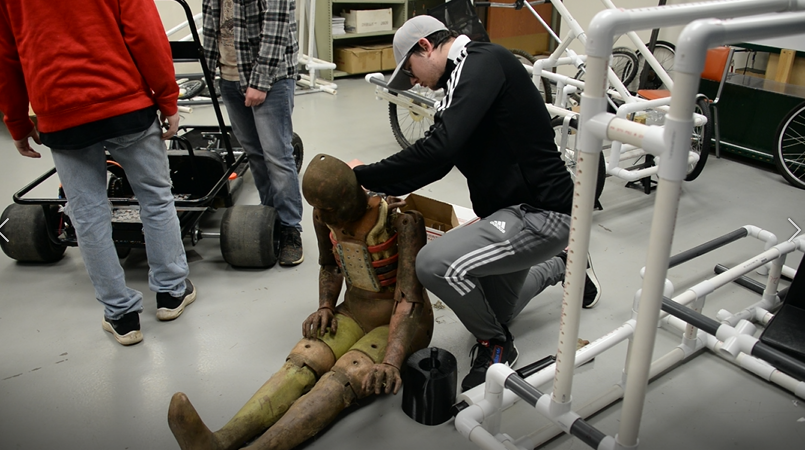 Engineers are significant in shaping society and the future. They are often on the leading edge of innovation. The bachelor of applied science in mechanical engineering technology (BASMET) program at North Central State College is helping students prepare for their future careers in engineering with their capstone projects focusing on crash tests and helping those with disabilities.
Students in the program have been working with a Canadian institution studying the impact of a bicycle vs car crash and the effects on the rider. They are working with crash test dummies to collect data on potential damage to internal organs sustained in the collisions.
Nickolas Bowser, a BASMET student working on the crash test says, "We are taking a crash test dummy, and trying to gather data so that we can better analyze crashes. We ultimately want to understand how much damage the crash causes to the human body."
The students have been using materials in the classroom to build a brain and arm that will be able to collect data. Mike Beebe, Assistant Professor of Engineering explains, "The students built a brain transducer and 3D flesh. This is also teaching them how to do some biomechanics work."
Chase Mullins, who is also working on the project, explains how they plan to collect the data. "There are wireless sensors to collect information at the moment of contact during the crash test," Mullins says. "The brain is injured differently during crashes. We want to see what that data looks like so we have wireless sensors in the test dummy's head to collect the data from the crash."
On April 29, 2022, the students put their capstone project in motion, conducting multiple bicycle vs car crash events. They were able to collect data that will be analyzed further, and also help shape future educational experiments by BASMET students.
Smoothing the ride for wheelchair users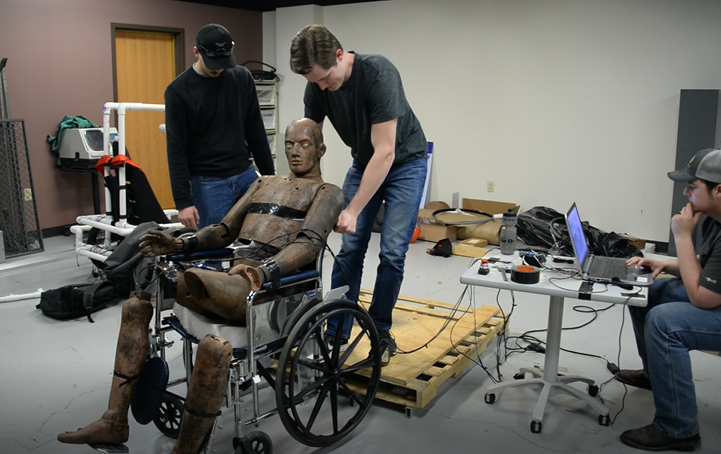 Another project students are focusing on in the BASMET program will potentially have a big impact on wheelchair users. Owen Maynard, a senior, is working with a team on a wheelchair suspension system that will help those in wheelchairs have an easier descent over large bumps. "We have a shock system on the back of the wheelchair that will bear the load when it goes over a curb or a ledge," Maynard explains. "Instead of having to balance the wheelchair and hold the person up, the shocks will catch it and slowly descend to reduce the impact."
The BASMET program is the first four-year program at NC State College with 150 students enrolled.
Many of the students transitioned into BASMET after being a part of the College-NOW Engineering program. College-NOW is a two-year program that allows high school juniors and seniors to enroll full-time and earn their Associate degree as they complete their last two years of high school. "It feels good to be graduating at such a young age," Bowser says. "I am getting my bachelor's degree two years earlier than when I would normally have received it. Graduating from NC State also save me money. This experience has been great for me."
"I have been exposed to some interesting systems," Maynard says. "I've also learned quite a bit about how these systems will help me in the future."
Beebe says the students will leave the program ready for entry-level engineering positions. "I graduated from North Central State with my associate degree back in the 70s," Beebe says. "That led me to technician and design work. The students graduating from the program could potentially have the same opportunities while searching for their career."
"What we try to do in the program is to integrate math and sciences into practical hands-on projects because one of the entry-level jobs could be running test equipment," Beebe explains. "We try to expose students to that type of learning so they are prepared. We want to make it fun but it's all about learning the engineering process."
Bowser, Mullins, and Maynard will graduate at the end of the spring 2022 semester.