Pathway Program Offers Seamless Transition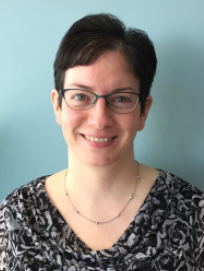 North Central State College offers several transfer options that allow students to finish their associate degree and keep their earned credits towards a bachelor's degree.
Angela Persky's obtained her associate degree quicker and transferred all of her credits using the North Central State College to Franklin University pathway.  This unique option allows NC State students pursuing degrees in business management, marketing, and accounting to complete their bachelor's degree at the Kehoe Center in Shelby or online.
Persky says it was a seamless experience.  She worked with an advisor to find the courses she needed to complete her associate degree and transfer for full credit.  She chose the associate of applied business – business administration major.  "Classes were on matters essential to business today such as human resources, logistics, and excel gave me instant real-world application and benefits."
After graduation from NC State in December 2019, Persky continued with the 3+1 pathway program that allows students to transfer up to 94 semester hours from NC State College toward a bachelor's degree from Franklin University. "The pathway has been extremely beneficial to me," she says.  "NC State offers many classes that provide needed flexibility for working adults.  My classes also received the maximum transfer credit to Franklin through the pathway program."
For students at North Central planning to continue their education towards a bachelor's degree, Persky strongly recommends this pathway.  "It has been extremely cost-effective for me," she explains.  "North Central's tuition is about one-third the cost as other universities, which saved me approximately $22,000 in tuition for a four-year degree."
"The application to Franklin University was easy.  I would encourage students to transfer credits each semester to closely monitor the overall progress toward their degree."
Persky will graduate from Franklin University with her bachelor of science in management and leadership in the spring of 2021.  "I plan to apply the knowledge I have obtained through my education to advance the vision and mission of the Ohio District 5 Area Agency on Aging, Inc where I currently work."